Pani (Water) Purification Project (12/2010 - 07/2013)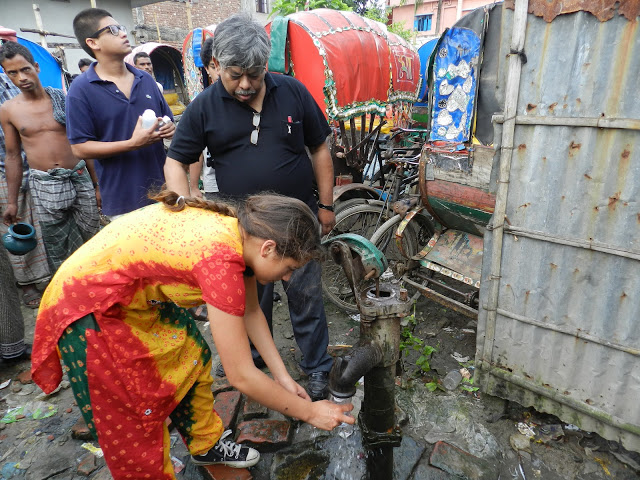 I discovered my desire to pursue research when​ ​I​ ​was​ ​fifteen and ​first​ ​went​ ​to​ ​my​ ​​father's​ ​home​ ​country​ ​of​ ​Bangladesh. I ​quickly learned​ ​of​ the dangers of drinking water, and​ ​was​ ​horrified​ ​by​ ​the​ ​dehumanizing living​ ​conditions​ ​in​ ​which​ ​millions​ ​of​ ​my​ ​people​ ​suffer.​ ​This​ ​inspired​ ​me to​ ​create​ ​a​ ​$25,​ ​solar-powered,​ ​easily-maintainable,​ ​UVc​ ​(ultraviolet-c) water​ ​purification​ ​system​ ​that​ ​I deployed​ ​in​ ​daycares​ ​for​ ​street​ ​children​ ​in​ ​Dhaka,​ ​Bangladesh,​ ​​serving​ ​~400​ ​children.​​ ​
During the Pani Purifaction project in September of 2011 I conducted field research to analyze the bacterial and fecal matter contamination from 24 different drinking water sources across Dhaka. This is a map of the sites were I tested water in Dhaka as well as the data for each of these samples. Most of these locations also have pictures of me collecting the samples when you click on a location. I then tested these water samples at the ICDDR,b (the world's leading cholera research institute) and Incepta Pharmaceuticals.
I later returnerd to Bangladesh in December of 2012 to implement two Pani Purification systems in daycares (Kowran Bazar and Komlapur) for street children. In order to make sure systems purified the water I tested samples at the ICDDR,b (world's leading cholera research institute).
This three​ ​year​ ​research​ ​endeavor​ led to my recognition as 1 of 5 international Google​ ​Science​ ​Fair​ ​Finalists, 1 of 13 international Scientific American Science in Action Finalists, and as a evangelist for universal water rights. This afforded me the opportunity to speak with Ira Flatow on NPR's Science Friday, be a part of a PBS Newshour Special, and present on HBO's Showtime about the dangers of climate change to drinking water in Bangladesh. More presentations can be found in the media or CV section.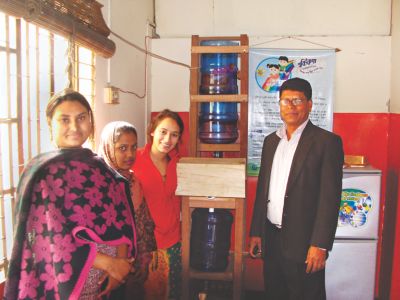 However most importantly I learned the​ ​value​ ​of​ ​cultivating​ ​and​ ​deploying cutting-edge​ ​applied-STEM​ ​research​ ​to​ ​better​ ​the​ ​lives​ ​of​ ​those​ ​who​ ​are​ ​less​ ​fortunate. This first experience with scientific research made me fall in love with research as a systematic way to tackle problems that plague people in society, and then provide cutting-edge solutions to alleviate the world's worst problems.
Ultimately this research project was conducted to understand what causes children to become sick (waterborne pathogens) and to then develop a low cost (< $25), solar-based water purification system that alleviates the pathogens. The system also had to be deployable in rural villages and low lying flood affected coastal regions of Bangladesh, so that the people who needed the water most could have access to it. To see more data and the system please visit the project website.